Discography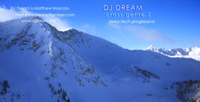 DJ Dream - Cross Genre 2 - Available now!
Finally...the long-awaited release of an updated DJ Demo, focusing on purely danceable tracks. Deep House flows into Techy territory and ultimately a full-on Progressive assault.
DJ Dream - Cross Genre 1
My first professional DJ demo. This mix features a fifteen minute deep ambient intro which quickly progresses into IDM, Electro, and House grooves. Both the musical selections and graphic design were inspired by a trip Montreal.
Matthew Mascolo - Free Mind
My debut solo album reflects the merging of several diverse styles: acoustic, Celtic, electronic, and ambient just to name a few. Though focusing on folk as the backdrop, the compositions push the limits of the genre by experimenting with ethnic instrumentation and even full-out electronic soundscapes at times.